Termination of services
ipPatrol will cease to operate its monitoring services as of the 31st January 2021. 
During this time all our operations will continue as normal and as they have for the past 18 years.
The last day of operation will be 31st January 2021 with final reports being sent out on the 1st February 2021.
We would like to take this opportunity to thank you for your business particularly those who have been with us since we started in 2002.

Multiple Types
Monitor website journeys, http/https, mail (smtp/pop3/imap/roundtrip), ping, port, dns, ftp, sip, voip, mysql, Sql Server, temperature and humidity.

Verification
Monitored from three independent locations simultaneously at precise intervals to prevent false alerts and for faster alerting of incidents.

Instant Alerts
Instant alerts via email, sms, instant messenger and pagerduty. Schedule repeat alerts, escaulations and planned outages.

Statistics
Regular email reports detail your alerts, downtime, uptime and response times. View historical data and share reports online.
Be informed
Every minute your website or internet service is down you are potentially losing customers. If your website or servers are down your customers will go elsewhere. If you are lucky they might tell you they are having problems and you can then start to try and fix the problem. Wouldn't you rather know about the problem before your customers start complaining?
Accurate monitoring
We check your website or servers from multiple locations at the same time. You don't need to change anything or provide us with anything other than the details of the service you want monitored and who you want informing when the service fails. When we detect a problem we will immediately alert you by email and/or sms. You can then quickly fix the problem and minimise your downtime and customer complaints.
Regular reports
Our detailed email and online reports will provide you with an insight into the reliability of your website or interet service and the quality of service your host is providing. Daily, weekly , monthly, quarterley and yearly statistics are available.
24×7 Support
As well as giving you an affordable, reliable and accurate 'set and forget' service we offer 24×7 support. We respond quickly to your questions and will work with you to resolve any issues.

Check
Three independent monitoring servers visit your web site simultaneously at precise intervals. The page being monitored is requested, http status code checked, content verified and the result is transmitted to our data centre for processing.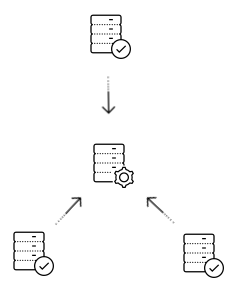 Process
Results are received at our data centre and processed, the status of your web site is determined, then statistics calculated and stored. You can use public reports or the control panel to view historical statistics.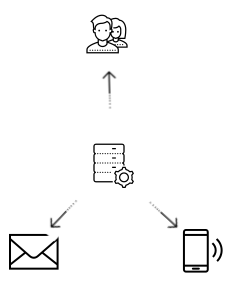 Alert
When an issue is detected alerts are sent via email, sms and instant messenger as per the schedule you have defined. When the issue is resolved we send alerts to confirm all is well. Who should be alerted and when they should be alerted is configured by you using the control panel.
Trusted by customers since 2002